This Fits Me Health & Beauty Brand Is Made With Mindfulness And Biodegradable, Recycled Packaging!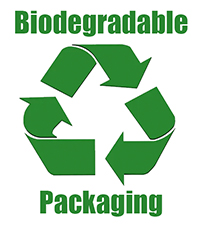 Our planet needs us. As the world's population grows, and consumerism drives more manufacturing and distribution of products, the amount of waste in oceans and landfills worldwide continues to rise at alarming levels. While we may not have all the answers or solutions, we are dedicated to offering eco-friendly packaging.


We ship our products in environmentally friendly, recyclable materials that are biodegradable.


Our packing peanuts are made of organic starch biodegradable materials that decomposes in water over time leaving no toxic waste on our mother earth.


Our cardboard kraft boxes are made with 100% recyclable materials and biodegradable. They can be taken to a recycling center or placed in curbside recycling pickup bins for collection.


Our wrapping paper is 100% recycled kraft wrapping paper that is biodegradable and compostable.


Our clear biodegradable packaging cellophane tape is made with natural raw materials, so the adhesive tape can degrade in the soil and can be composted.
Our biodegradable poly bag & kraft paper mailers are compostable and made of recycled materials.